Sleaford: William Alvey School aims to buy ex-pupil's WW1 medal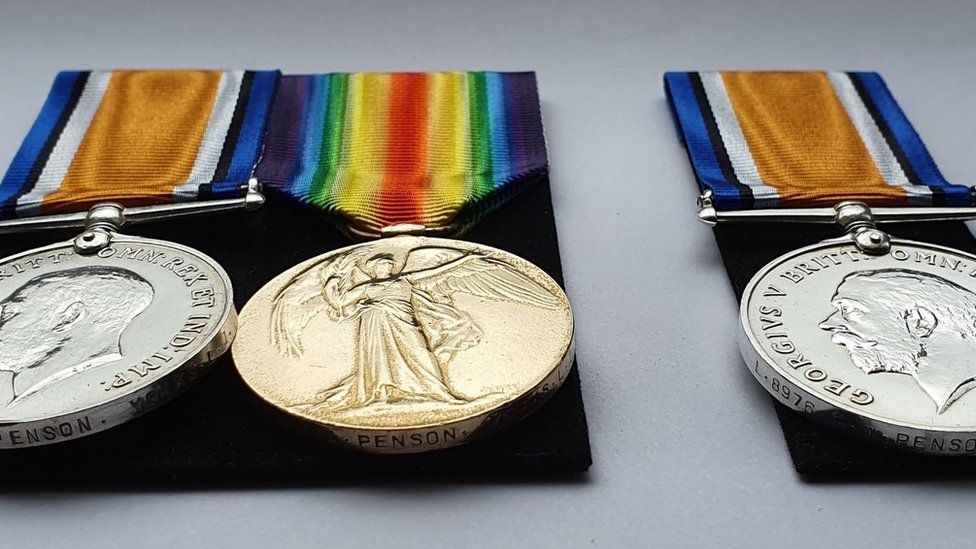 Almost a century after an ex-pupil died in an airship disaster, staff and pupils at his old school hope to buy a medal awarded to him in World War One.
The William Alvey School in Sleaford, Lincolnshire, is raising funds to buy wartime medals awarded to Charles Penson and his father James.
Charles Penson died when an airship he was on during patrol duties over the Humber plunged in flames in 1921.
Raising the £800 for the medals would "complete the circle", the school said.
The medals the school hopes to buy are The British War Medal belonging to Charles Penson and the British War Medal and Victory Medal awarded to his father James Ambrose Penson.
Natalie Mason, a Year 6 teacher at William Alvey, said the current owner of the medals had contacted the school saying he wanted to sell them.
"He thought of us first. If he was to sell them today he would probably raise £2,000, but he offered to sell them at the price he paid, around £800," she said.
Ms Mason said 24 August 2021 marks the centenary of Charles Penson's death at the age of 23.
In August 1921, Mr Penson was on patrol duties in an airship over Hull when it folded, caught fire and exploded.
Sixteen out of 17 Americans and 28 out of 32 Britons on the airship died in the disaster.
The school has now started an online page to raise funds to buy the medals.
Ms Mason said: "We're very keen to get the medals back and bring them home."
If successful, they would be put on show in the school's front entrance as a "learning tool" for the children, she added.
William Alvey head teacher Stephen Tapley said: "All schools have a history and it's really important as they need to understand where they've come from.
"To actually have someone's medals who is buried in Sleaford cemetery 400 metres from where I am now, and who probably set foot and sat in the office where I am now, completes the circle."
Related Internet Links
The BBC is not responsible for the content of external sites.