Women's safety: Verbally abused woman in Lincoln 'felt safer in 70s'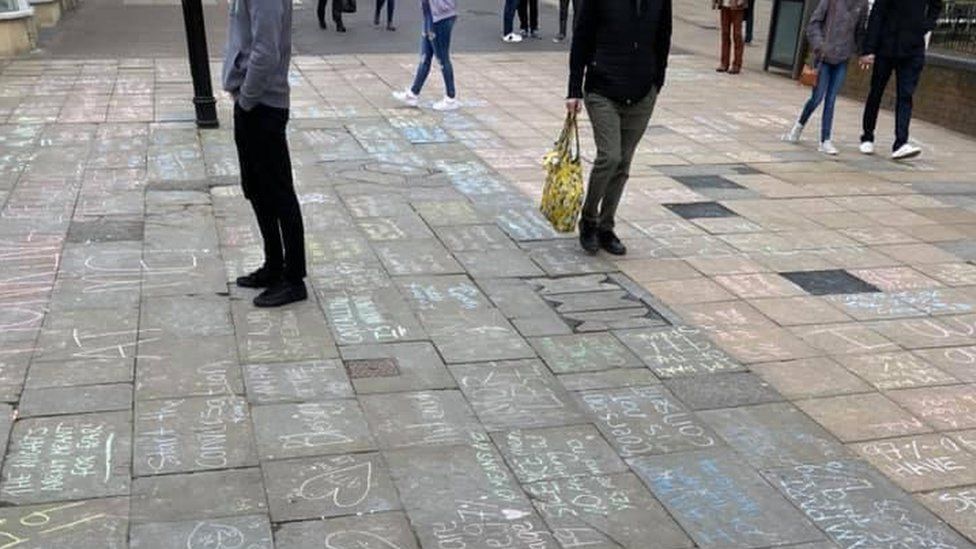 A 62-year-old woman who was verbally abused at a women's safety event says she felt safer on the streets in the 1970s than she does now.
Mariea, who did not want to give her surname, said a man shouted abuse at her during Saturday's event in Lincoln.
"I was saddened by it as well as being absolutely appalled. What has it come to when women can't raise awareness?" she said.
Police said they were investigating a number of incidents at the event.
The retired social worker said she was "shocked" to hear the man verbally abusing some women, who were leaving messages in chalk on pavements as part of the campaign on Lincoln's High Street.
When she tried to support them by asking the man what he was doing, she said he reacted by swearing "aggressively".
"He told me: 'You look like a man' and 'I wouldn't have sex with you anyway'," she said.
"I've never in my life had a man shout at me like that and call me names like that."
She said neither she nor her 70-year-old husband now felt safe in the city.
"I won't go out at night any more. Lincoln used to be a good place. I used walk up and down Lincoln High Street late at night and have no problems in the 70s and the 80s.
"It's always been there in the 70s and 80s but not as aggressive and as nasty as this," she added.
Organisers of Saturday's event said it was also marred by the appearance of a rape "joke" written on the wall of a war memorial close to the messages about women's safety.
Lincolnshire Police said: "An incident of alleged abuse against a woman was reported to us, and we are also aware of an offensive message left on a wall near the war memorial. Investigations are ongoing.
"We worked with organisers ahead of this event and there were no breaches of Covid regulations reported."
Related Internet Links
The BBC is not responsible for the content of external sites.