Global response to birthday card appeal for 100-year-old veteran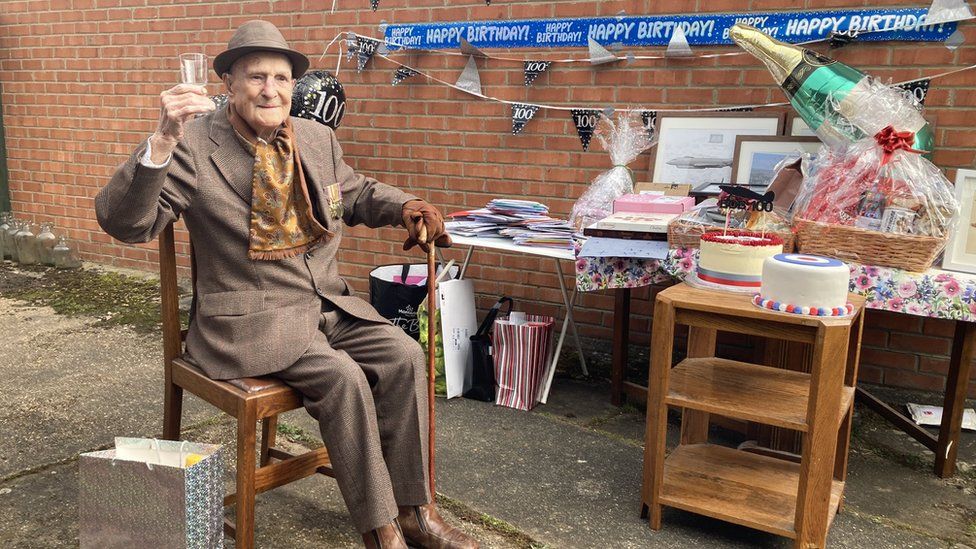 An RAF veteran has received more than 500 cards from around the world to celebrate his 100th birthday after a friend's appeal on social media.
Bob Sargent was greeted by gifts and cards when he stepped out of his house in South Hykeham, Lincolnshire.
His friend, Pauline Sidebottom, said she had hoped for a few cards for Mr Sargent after posting a plea online.
Mr Sargent, who worked as an aircraft engineer during World War Two, described it as a "wonderful" surprise.
He said: "I've never seen anything like this before in my whole life. I don't suppose I'll live another 100 years to get another."
Ms Sidebottom, who volunteers at a local veterans club, said she made the Facebook post after Mr Sargent told her all he wanted for his centenary was "just some birthday wishes".
"I was reduced to tears earlier. What can I say? It's just been absolutely amazing and I just cannot thank people enough," she said.
As well as the cards, Mr Sargent received a signed photograph from the famous Lincolnshire-based Red Arrows aerobatic display team and a birthday cake in the shape of an RAF roundel.
"From all around the world, I think it's a wonderful thing. I don't know why I deserve all this," said Mr Sargent.