Covid: Lincoln Asylum steampunk event moved to Newark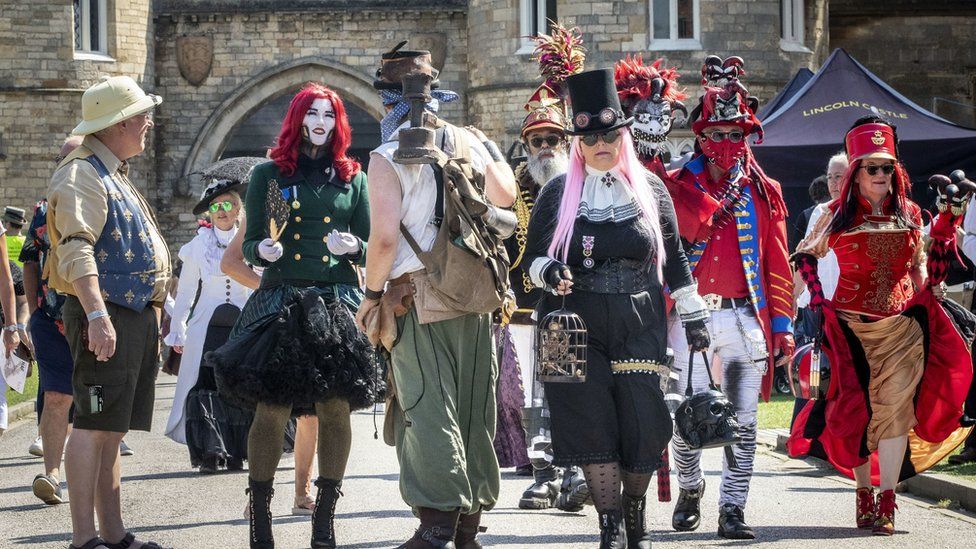 Organisers of a major steampunk festival say they have been forced to move the event and scale it back due to worries about social distancing.
The Asylum festival attracts up to 100,000 people to Lincoln each year and is believed to be worth about £2.2m to the local economy.
Festival director John Naylor said concerns had been raised about safety and crowd management due to Covid.
The event, held over the August bank holiday, will now be held in Newark.
The final stage in the government's roadmap for lifting coronavirus lockdown restrictions is due to take place in June if certain conditions are met.
However, Mr Naylor said organisers were told by the Local Safety Advisory Group - whose members include City of Lincoln Council officials and the police - that it would be "ill-advised" to hold the event in Lincoln this year due to Covid concerns.
Organisers were also told they would be responsible for managing anyone attending the parts of the festival which were to be held in public areas.
Mr Naylor said: "Steampunk is a very attractive and welcoming scene, but this brings with it an audience over which we have no direct control.
"As a volunteer-based arts organisation this left us in an untenable position," he added.
Simon Walters, City of Lincoln Council's director of communities and environment, said the issue was that a decision had to be made back in March, at a time when Covid restrictions were still fully in place.
Lincoln Business Improvement Group (BIG) - another of the organisations involved in discussions over whether the festival should go ahead in the city - said the main concern was about crowd safety.
Sarah Loftus, chief executive of Lincoln BIG, said: "We have offered support to help, but we cannot legally take on responsibility for managing crowds in a public area for an event which isn't ours."
The main ticketed event for the Asylum festival will now take place at Kelham Hall, near Newark, with other attractions planned for Newark town centre.
Mr Naylor said the move to Newark meant it would be easier to control numbers and ensure everyone was safe, but he added that he hoped the festival would return to Lincoln in the future.
Colin Davie, Lincolnshire County Council's executive councillor for economy and place, said he was concerned about the economic impact on Lincoln that the festival's temporary move would have.
"We don't normally deal with steampunk, but it does contribute about £2.2m a year to the local economy," he said.
"I don't want to see that kind of money being taken out because someone hasn't made the right decision."
Related Internet Links
The BBC is not responsible for the content of external sites.