Ryalla and Absy Duffy funeral: Hundreds attend cathedral service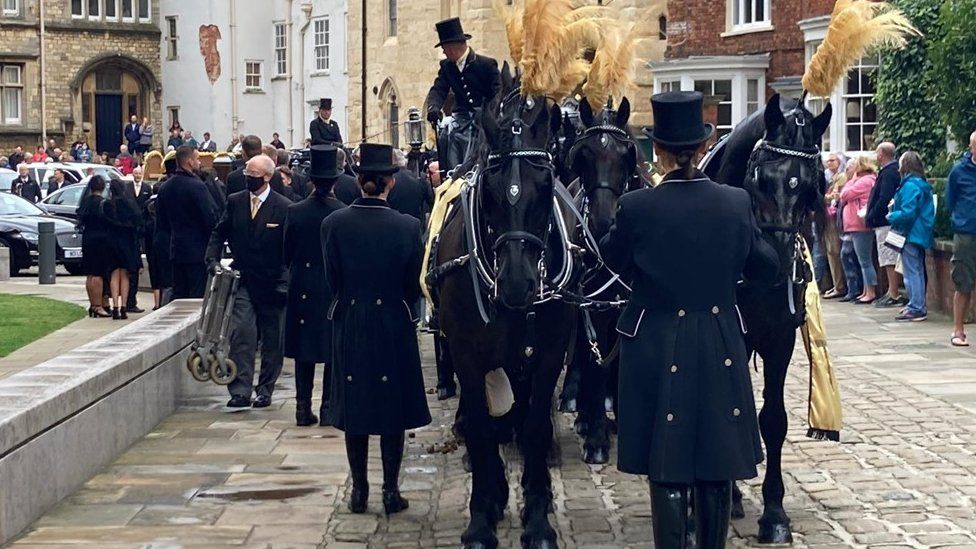 Hundreds of people have attended a funeral service for a prominent member of the traveller community and her son.
The joint service at Lincoln Cathedral was for Ryalla Duffy, who died in March, and her son Absolom Duffy, who was killed in a car crash in July.
A cortege featuring horse-drawn carriages and limousines preceded the service and more than 300 mourners gathered inside the historic building.
Floral tributes to the mother and son were also placed outside the cathedral.
Ms Duffy was well-known for her campaign work and made regular appearances in the media.
According to her obituary in the Traveller Times, Ms Duffy, from Saxilby, Lincolnshire, died in March, aged 61.
She was one of the founder members of the National Federation of Gypsy Liaison Groups in 2005, and took part in police training, parliamentary meetings and conferences.
She was also a poet, film-maker and the author of several books.
A tribute to her read: "Ryalla had lived the life, lit many fires and told many stories."
One woman, speaking after the service, described her as a "lovely lady" who would always try to help others.
"It's right they had the funeral here," she added.
The Dean of Lincoln, the Very Rev Christine Wilson, said Ryalla was held in high regard by those who knew her.
"It's natural that someone of that leadership and quality they want to mark and remember her and celebrate her life," she added.
Paying tribute before the service, Vee Duffy Williams said her mother and brother were both "such lovely people".
"If someone asked him for help he would give them his last pound because we were all raised like that, and he always had such respect for his elders."
Related Internet Links
The BBC is not responsible for the content of external sites.