Newborn donkey rejected by mother moves into Skegness house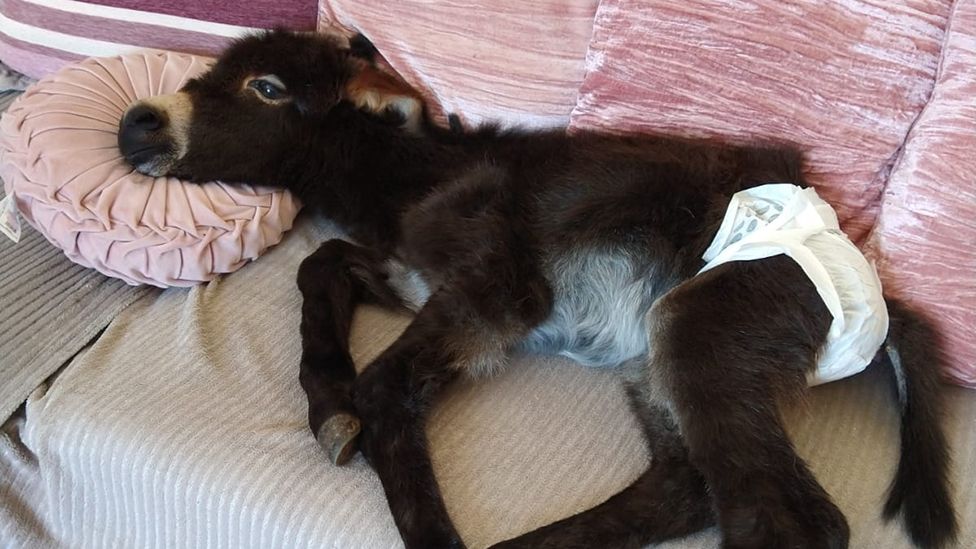 A newborn donkey rejected by its mother and a surrogate is being hand-reared at home by a human "mum".
Twelve-day-old Kye is being fed milk from bottles and wears a nappy while inside his new Lincolnshire house.
Owner John Nuttall, whose family has run donkey rides on Skegness beach for a century, said in his experience only about 5% of foals were rejected by their mother.
"You've got to keep going and persevere with it to get him strong," he added.
After Kye's mother was not interested in him, a second mare also refused to feed the unloved equine.
In desperation, Mr Nuttall began bottle-feeding the dinky donkey but struggled until neighbour and dog expert Gražina Pervenis offered her help.
"She rang me one night to ask me how the foal was doing. I said 'He's not very well, he's poorly'. She took the foal away that night about midnight, stayed up literally the night and kept bottle-feeding him," said Mr Nuttall.
"She put a nappy on him so he didn't mess in the house and kept him on his feet through the night."
When Kye returned home to Mr Nuttall he refused to feed and just lay on the sofa. He said his neighbour took him back and he is now "thriving".
Ms Pervenis said it was "a bit crazy" having a donkey around the house. Her teenage daughter has been helping with the hourly feeds, which continue through the night.
"He feels at home," she said.
"He has been very well behaved. He is cheeky, he likes to play but no damage."
In a couple of months Kye will be weaned and is expected to join 70 other donkeys on the Nuttalls' family farm.
Ms Pervenis said the family would be sad to see him go, adding: "He doesn't leave our side. He loves to stay with a human, he loves to be by your side. Even if I do some weeding outside he follows me."
Related Internet Links
The BBC is not responsible for the content of external sites.