Lincolnshire pendant is millionth archaeological find by public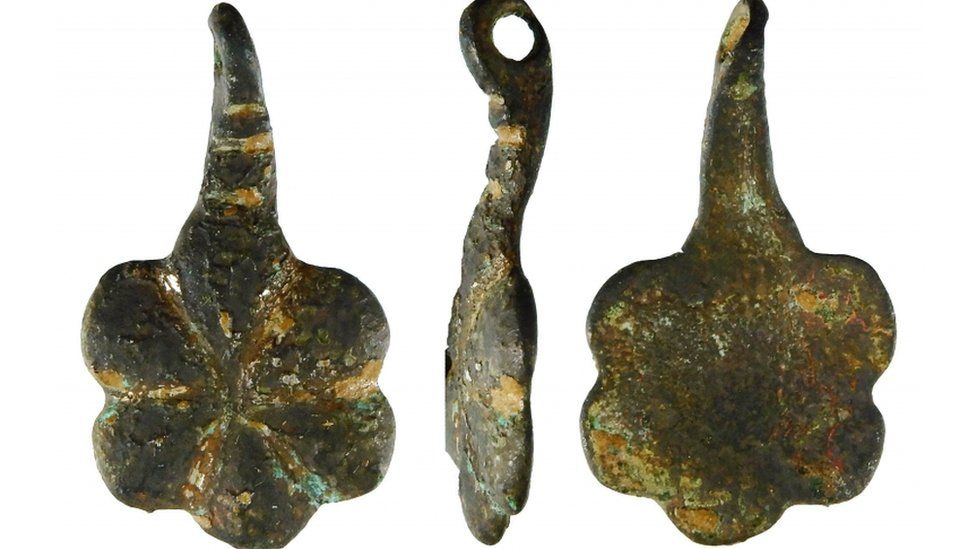 A medieval pendant discovered in Lincolnshire has become the one millionth archaeological discovery found by a member of the public.
The copper-alloy harness pendant, unearthed in Binbrook, is believed to date back to between 1350 and 1400 AD.
A Portable Antiquities Scheme (PAS) report said nearly 50,000 items were found in 2020.
Michael Lewis, head of the PAS, said each find was "part of the great jigsaw puzzle of our past".
The PAS annual report, published on Tuesday, states the Lincolnshire pendant measures 2.4cm in length and weighs 2.4g.
It said of the items discovered last year, 91% were found by metal detectorists with 1,077 deemed to be treasure.
Other finds include a gold cross pendant with a runic inscription found in Berwick-upon-Tweed and Roman coins found in three pots in Wickwar, Gloucestershire.
The Arts Minister Lord Parkinson said: "Human beings have been fascinated by treasure from previous generations for centuries and these new statistics show the search for, and engagement with it, still captivates us today.
"I'm delighted that one million records of archaeological finds made by the public have now been logged.
"It shows the important role we all can play in protecting and cherishing our heritage."
Mr Lewis, Head of PAS and Treasure at the British Museum, said it was important to "acknowledge the positive contribution made by metal-detectorists and other public finders across the country."
He added: "No matter how small, or fragmentary, these finds are all part of the great jigsaw puzzle of our past."
Related Internet Links
The BBC is not responsible for the content of external sites.