Covid: Haxey Hood game decision delayed due to pandemic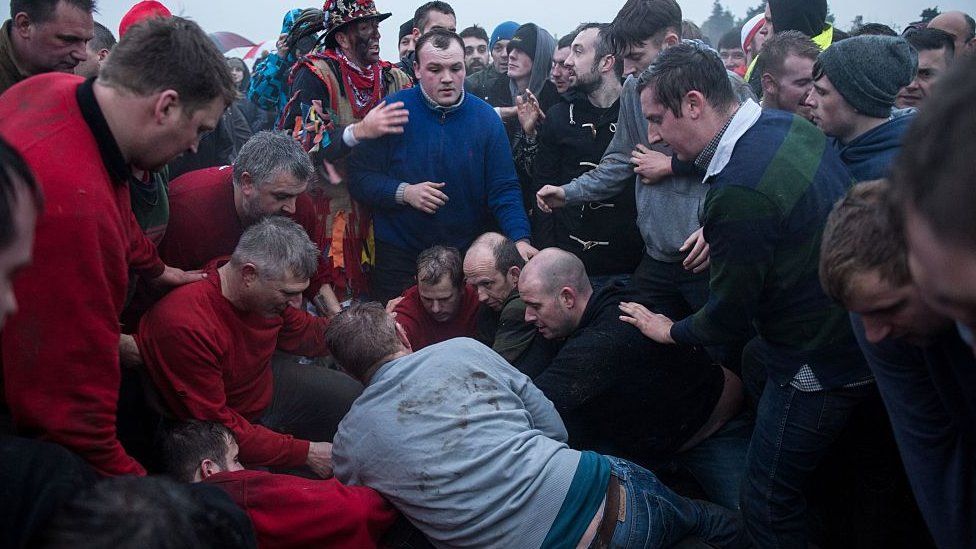 An annual mass rugby-style game dating back to the 14th Century is under threat from the Covid pandemic for a second year, organisers have said.
The Haxey Hood was cancelled in January 2021 for the first time in over 100 years due to coronavirus.
The event is contested by pub patrons in the neighbouring North Lincolnshire villages of Haxey and Westwoodside.
A decision on the 2022 event has been delayed due to "recent developments" with Covid, organisers said.
The event sees the Hood, a leather tube about 3ft (1m) in length, pushed in a scrum until it reaches one of a number of pubs.
The contest, which includes the Smoking of the Fool, is held annually on the Twelfth Day of Christmas and can run for hours.
The final verdict on whether January's event could go ahead would be made over the Christmas period, they added.
North Lincolnshire currently has a rate of 438 Covid cases per 100,000 - slightly down on last week.
The tradition is said to have started when Lady de Mowbray was out riding between Westwoodside and Haxey - between Gainsborough, Scunthorpe and Doncaster - when her silk riding hood was blown away by the wind
She is said to have been so amused to see local farm workers chasing it, she rewarded them land - on condition the chase be re-enacted every year
The story says the worker who caught the hood was too shy to approach her and handed it to a fellow worker to return
It is said Lady de Mowbray thanked the man who returned the hood and said he had acted like a lord. The worker who caught it was labelled a fool
The contest is held annually on the Twelfth Day of Christmas except when 6 January falls on a Sunday