'Ritual mass murder' report in Chapel St Leonards was yoga class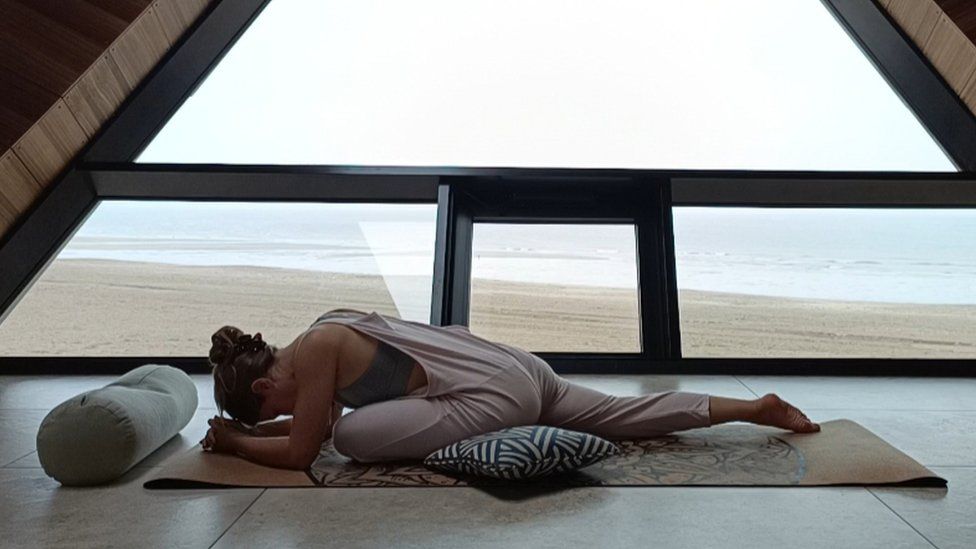 A yoga class was mistaken for a "ritual mass murder" scene after members of the public saw several people lying on the floor and reported it to police.
Five police cars descended on the North Sea Observatory in Chapel St Leonards, Lincolnshire, on Wednesday night.
Yoga teacher Millie Laws said she thought reports of her being a "mass murderer" were a "joke at first".
Lincolnshire Police confirmed everyone was safe and well, and the call was made with "good intentions".
The 22-year-old teacher said she was teaching seven students at the Seascape Cafe, which is inside the building, when she saw two dog walkers peering closely through the glass window during the Shavasana or relaxation stage of the class.
"They're [students] laying down with blankets over them, their eyes are closed. It's very dark in there. I just had candles and little tea lights lit the whole room, and I was just walking around playing my drum. I had a nice floaty top on with large bell sleeves," she said.
"A couple with some dogs just came up to the window and were having a look in, but they walked off really quickly and I didn't think anything of it."
"I didn't know until after we left that these people phoned in saying that there was a mass murderer; they were wearing a robe and they were walking over all of the people, and it looked like some kind of ritual, and that the people on the floor were actually dead.
"I guess from the outside view it could look like that, because they're all really still, very nice and relaxed.
"I'm sure their imagination was running wild with what was going on."
Ms Laws, who had only moved to the area three months ago, said officers swooping on a "small little village in the middle of Lincolnshire is crazy".
"It's a bit surreal and funny.
"I feel really bad for whoever the person was who [phoned police] that would, of course, have been terrifying. So I do feel for them.
"But at the same time you've got to see the lighter side of it."
Managers at Seascape Cafe sought to reassure residents and thanked police for the prompt response.
They said on Facebook: "If anyone heard the mass of police sirens in Chapel St Leonards at 9.30pm last night then please be reassured.
"They were on their way to the Observatory after someone had reported a mass killing in our building, having seen several people laying on the floor... which actually turned out to be the yoga class in meditation.
"Thank you to Lincolnshire Police for their prompt response. I can't imagine for one moment what would have being going through their minds on the way."
The cafe regularly plays host to yoga classes with the Facebook post adding: "We are not part of any mad cult or crazy clubs.
"All in all, this situation turned out positive and we are of course grateful."
Lincolnshire Police confirmed the call was made at 20:56 BST "with good intentions".
A spokesperson said: "A call was made following concerns for the occupants of the North Sea Observatory, at Chapel St Leonards.
"Officers attended, we're happy to report everyone was safe and well."
Related Internet Links
The BBC is not responsible for the content of external sites.