Men guilty of 'brutal' double murder in West Norwood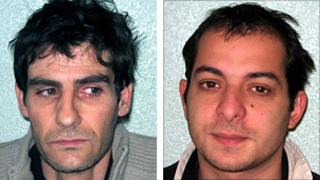 Two men have been found guilty of murdering a chef and his Italian flatmate in south London.
Donald MacPherson and Luciano Schiano were found dead in Summersell House, in West Norwood, last October.
Mr Schiano, 49, was targeted for making a pass at the girlfriend of one of the killers but Mr MacPherson, 60, was killed because he was at home.
Claudio Lamponi, 30, of Norwood, and Massimo Manai, 41, of Sardinia, Italy, were convicted at the Old Bailey.
Both men had denied the charges.
Judge Richard Hone told the killers he was considering jailing them for more than 30 years.
'Caught unawares'
The court heard that Mr Schiano was targeted after he "unwisely made a pass" at Manai's girlfriend in August.
But Mr MacPherson, who worked at the Reform Club in Pall Mall, was an innocent victim. He was separated from his second wife and had been lodging at Schiano's flat.
He was attacked in his bed and had his face smashed with a clothes iron when he resisted. He suffered 80 injuries.
Mr Schiano, who suffered 26 knife wounds, was "caught unawares and perhaps even watching television," the jury heard.
Their bodies were discovered after the alarm was raised when Mr MacPherson failed to turn up to work for days and his family also could not get in touch with him.
Mark Heywood QC, prosecuting, said the men were "brutally killed - stabbed with repeated blows in the chest and the neck".
"In the case of one of the men, the need to finish him off - to silence him perhaps - was so overwhelming that when he fought for his life, not only was he stabbed but he was bludgeoned to the face with a clothes iron.
"The force with which it was swung was so great that not only were the bones of his face broken but also the iron itself was broken, bloodied, and left behind," he said.
Mr MacPherson's daughter Manda, who was with her won daughter when she found his body, said the father-of-four was a "simple man" and a "great chef".
In a victim impact statement read out in court, she said: "People do not go to bed to be slaughtered by two maniacs.
"This will be with my daughter forever - being 16 and finding your beloved granddad dead in bed.
"These men stole the heart of the family. My dad didn't deserve to die like this."