Brooke Kinsella in call to 'celebrate teenagers'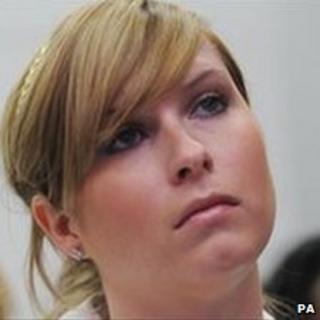 Ex-EastEnders actress Brooke Kinsella is backing a campaign to celebrate teenagers after a survey showed many people feel unsafe around them.
Ms Kinsella became the government's knife czar after her brother Ben was killed in north London in 2008.
A survey by The London Serious Youth Violence Board (LSYVB), which started the campaign, found most people think a third of youths are involved in crime.
Ms Kinsella said: "Most are law-abiding - the 99% should be celebrated."
She continued: "I hope this campaign will help encourage even more young people across London to make a positive contribution in their local community."
LSYVB has produced figures showing that 1,336 people under 20 were accused of a serious violent crime in the city last year.
'Major challenge'
Compared to a population of 1,868,457, that is less than 1%.
Launching the '99 Percent' campaign, Will Tuckley, of LSYVB, said: "We know youth violence is a major challenge, but we are not doing enough to promote the 99% that aren't involved in it.
"Our survey has reminded us of how far off the public's perceptions are from the reality on the streets of London.
"We need to do justice to the 99% of our children and young people, and encourage the 1% to change their ways."