Metropolitan Police bids to block Baby Peter inquest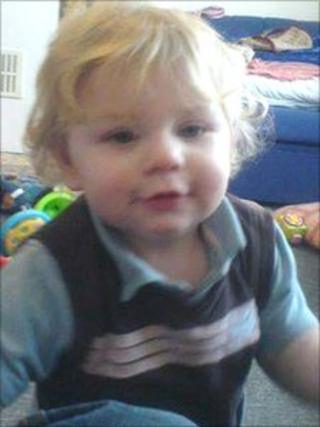 The Metropolitan Police are trying to block an inquest into the death of Baby Peter, the BBC has learned.
The force said it opposed an inquest, arguing that the child's death had already been the subject of a criminal trial and numerous inquiries.
It said child protection had also improved since.
An inquest was opened and adjourned shortly after the toddler was found dead at his home in Tottenham, north London, in 2007.
Peter's mother Tracey Connelly, her boyfriend Stephen Barker and Barker's brother Jason Owen were all jailed for their part in Baby Peter's death.
He died, aged 17 months, in his blood-splattered cot on 3 August after months of abuse, despite being on the at-risk register of Haringey Council and being seen on at least 60 occasions by professionals.
The North London coroner Andrew Walker is now considering his next steps.
Next steps
A pre-inquest legal hearing was due to have taken place on Friday, but has been delayed until September.
The BBC understands that Peter's father would like an inquest to be held.
A number of other interested parties, including Haringey Council, Great Ormond Street Hospital and Haringey Primary Care Trust, have been asked to make submissions to the coroner.
Lawyers for sacked Haringey children's boss Sharon Shoesmith said she was keen there should be a hearing because she felt that more evidence needed to be made available to the public.
It is also understood that lawyers for at least one of the defendants have no objection to an inquest. BBC London has also learned Barker would be willing to give evidence.
A coroner has wide powers to call witnesses and while it is unusual for serving prisoners to be summoned it is not unprecedented.
The organisation Inquest has backed calls for a hearing, saying it would be a public examination of the facts and look at any underlying failings of the agencies which had contact with Peter.
Its director Deborah Coles said: "The issue here is whether or not they're concerned about issues coming to light, to public scrutiny, that raises concerns about their failings but it is absolutely right and proper in a democracy that where you have such a tragic death occurring that there is public scrutiny of all the potential institutional failings."
'All time high'
A Metropolitan Police Service (MPS) spokeswoman said it made submissions at a pre-inquest hearing at North London Coroner's Court on 21 April, asking whether there was "sufficient cause" to resume the inquest.
The spokeswoman added: "These submissions are not to be interpreted as a suggestion that the MPS resists any public scrutiny into either the circumstances surrounding Baby Peter's death or the implementation of child protection procedures generally.
"The death of Baby Peter has been subject to the most extensive and independent public investigation, producing detailed critical reports and recommendations for reform.
"Those responsible for his death have been identified and made the subject of either criminal or professional disciplinary procedures."
The force said it had implemented recommendations from reports and improved its performance so that investigation of child protection offences was at an "all time high".
The spokeswoman added: "Wider systems of child protection are the specific responsibility of a number of independent statutory agencies, including the newly created Chief Adviser on the Safety of Children.
"We believe those agencies, rather than an inquest into a specific death, are the method by which child protection procedures should continue to be addressed and improved."