London MPs urge Hammond to protect Tube, worth '£66bn'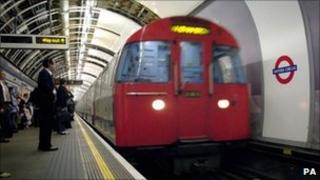 A cross-party group of London MPs has warned Transport Secretary Philip Hammond and London Mayor Boris Johnson to protect the Tube from cuts.
Tory MP Mark Field and Lib Dem MP Tom Brake were among MPs who had signed the motion which was expected to be tabled on Thursday.
The motion warned investment in the Tube was "vital" to the economy.
Mr Hammond responded by saying that he had "shared commitment with the mayor to Tube investment".
The transport secretary is preparing to submit proposals for cuts for the chancellor' s autumn spending review.
'Critical upgrade'
The motion said economic returns from an upgraded Tube were "estimated at £66bn".
The MPs urged "the government and the mayor to maintain the investment in this vital infrastructure in order to support UK economic growth."
The Tube, which "had been starved of investment for decades" was "part way through a critical upgrade," the MPs added.
Mr Hammond said: "The decision about where to make savings following this autumn's spending review will be for the directly elected mayor."
"However, we have a shared commitment with the mayor to economically-important projects such as Crossrail and Tube investment."
The Mayor of London said: "The UK cannot afford the cost to the economy if the capital is starved of vital investment in infrastructure projects like Crossrail and the upgrade of the Tube."
Meanwhile, in an annual update to MPs on Crossrail funding and finances, Transport Minister Theresa Villiers said £773m of public money had been spent on the project since July 2008.
"Crossrail will support economic growth for London and the UK and, as the coalition agreement made clear, is supported by government," she added.