Row at Ministry of Sound led to 'murderous violence'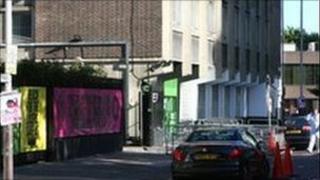 A row in a nightclub led to "murderous violence" in which a man was killed in a car crash and the driver was shot at in revenge, a court heard.
Gary Johnson, 25, died when he was hit by a car opposite the Ministry of Sound in Elephant and Castle, London, in August.
His friend Dwayne McPherson, 28, then shot at the driver, Ranjit Nankani, 30, several times, the Old Bailey heard.
Mr Nankani denies murdering Mr Johnson. Mr McPherson denies attempted murder.
A row in the nightclub on Gaunt Street ended in Mr Nankani of Croydon, and his friends being thrown.
'Act of revenge'
Later when Mr Johnson and Mr McPherson, of Sydenham, left the club Mr Nankani was waiting in his Mitsubishi Shogun outside, the court heard.
Jurors watched CCTV footage showing Mr Johnson, of Streatham, strolling along the pavement opposite the club "without a care in the world", said Mr Aftab Jafferjee QC, prosecuting.
Then "in a staggering act of revenge", Mr Nankani's car mounted the pavement, hitting Mr Johnson and killing him instantly, said Mr Jafferjee.
The victim was thrown into the air, carried on the bonnet and partially decapitated, the jury heard.
Following the collision the vehicle collided with parked cars, trapping Mr Nankani inside.
CCTV footage then showed a man, alleged to be Mr McPherson, run towards the car and fire four shots at the driver before running off.
'Breathtaking lawlessness'
Mr Jafferjee said: "It was McPherson's turn for revenge. He pulled out his gun and fired several rounds at Nankani.
"He was going to kill Nankani in revenge for Nankani killing his friend."
One bullet struck Mr Nankani.
The court was told Mr Nankani's defence statement claimed he panicked after hearing shots and drove the car down the pavement while hiding under the steering wheel.
But Mr Jafferjee said Mr Nankani's claim was "a demonstrably false and contrived account".
"This case is about breathtaking lawlessness on the streets of London, where comparatively minor incidents inside a busy venue were responded to with murderous violence," Mr Jaffarjee added.
The case continues.