RMT ballots 10,000 London Underground staff for strike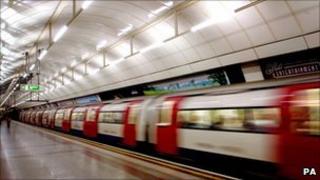 London Underground (LU) could be hit by a large strike as a union announced it was to ballot 10,000 members.
The Rail, Maritime and Transport (RMT) union said it was taking the action over jobs cuts among station and platform staff.
It says 800 posts are under threat and more than 140 ticket offices will close, threatening safety.
A spokesman for LU said safety and customer service remain top priorities.
The RMT also fears many more Tube jobs could go as part of the coalition government's cost-cutting agenda.
RMT general secretary Bob Crow said: "We said that we would fight the jobs assault on the Tube, and the undermining of staff and public safety, and we meant it."
He added: "This is a dispute about jobs and safety and that's why it involves all of our members on LU.
"We remain available for further talks but nobody should underestimate our determination to push back the tide of job and safety cuts."
LU's Howard Collins said: "We have assured staff and customers that all of our stations will continue to be staffed at all times while trains are operating and all stations with a ticket office will continue to have one.
"However, in the same way that people no longer use their bank branch to cash cheques, the Oyster technology rolled out across Transport for London means that only 1 in 20 journeys involve any interaction at a ticket office window.
"What we are seeking to do is deploy staff more visibly in stations where they can more easily assist passengers.
"We are committed to delivering these changes with no compulsory redundancies."
The ballot will begin on Tuesday and will close on 11 August.
RMT members will be balloted on strike action and action short of a strike.