Motorcyclists lose Westminster parking charge row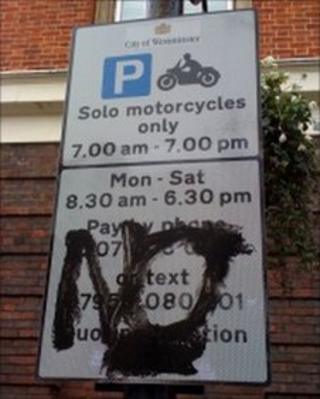 Westminster Council has won a legal battle to charge motorcyclists a daily fee for parking in the borough.
The High Court ruled against an appeal by demonstrators who were angry at councillors levying a £1 per day parking charge for motorcyclists.
They claimed the fee was simply a device for Westminster Council to raise more revenue.
But a council spokesman said their decision to charge the fee had been "rigorously scrutinised... and tested."
Lord Justice Pitchford said in his ruling that budgeting for a modest surplus did not invalidate the scheme or mean there was an ulterior motive in charging motorcyclists.
He said: "It was, and is, accepted by the council that charging measures may not be introduced for the purpose of increasing either its general income or its income to be applied for transport policy purposes."
Westminster Council's Lee Rowley said: "We have always maintained that with huge demand for on-street space in Westminster, charging motorcyclists a small sum to park was reasonable and fair and I'm glad the judge has reiterated this."
Since the charges were introduced in January, motorcyclists have launched regular protests in central London.
These have included weekly demonstrations in Westminster with a series of go-slows in and around Trafalgar Square in the morning and evening rush hour to central London.
The charges impose a £1-a-day fee, or £3.50 a week, £13.50 a month, £33.50 for three months or £100 a year.