Call to ditch top council post in Olympics borough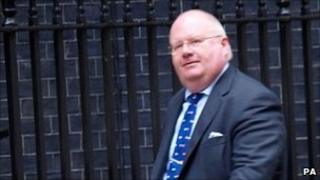 The London borough which will host the 2012 Olympics should save money by doing without a chief executive, says Communities Secretary Eric Pickles.
Joe Duckworth was one of Britain's highest-paid local authority officials as chief executive of Newham council.
But he quit his £240,000-a-year post in the Labour-controlled east London borough on Thursday.
"It would appear that there is no need for this post any more," said Mr Pickles.
In a statement, Mr Duckworth said: "I have enjoyed my time with the council but after two hectic years I have decided to take my career in a new direction and to seek new challenges."
Sir Robin Wales, who was elected Labour Mayor of Newham in 2002, said: "Joe has brought great energy to the council and I am delighted that together we have improved so much for residents."
'Golden goodbye'
The communities secretary said that, with an elected mayor Sir Robin, who saw his pay rise by 4% to £80,000 in June, Newham had no need for a chief executive.
Mr Pickles also warned against a large pay-off for Mr Duckworth, amid reports that he may be negotiating a "golden goodbye" - despite having resigned from his job after just two years.
Newham Council said it believed in transparency and any payments were subject to disclosure under new regulations.
A spokesman confirmed Mr Duckworth had resigned and not taken redundancy and they wished him well..
Responding to reports of a possible pay-off for Mr Duckworth, Mr Pickles added: "The age of golden goodbyes and huge pay-offs in the public sector must end."
The government has pledged to give councillors the power to vote on the salary packages of unelected officials.
Proposals have also been made for local authorities to share chief executives and other senior staff in order to keep costs down.