Jail for feuding drivers in fatal crash with cyclist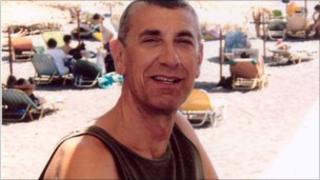 Five men have been jailed for the manslaughter of a cyclist, killed as two feuding car drivers raced along a residential road.
Graham Thwaites, 51, was close to his home in Orpington, south-east London, when he was hit by a Mitsubishi.
It had careered out of control after being shunted by another car jostling with it, the Old Bailey heard.
The drivers were jailed for 11 and 12 years respectively and three passengers for from three to six years.
Mr Thwaites, an administrator at Lloyds TSB headquarters in the City, suffered "catastrophic" injuries after being thrown against the car before hitting a garden wall in September 2008.
The men were all found guilty of manslaughter last month.
Dog dispute
The driver of the Mitsubishi, Andrew Carlisle, 35, of Mottingham, south-east London, was jailed for 11 years and banned from driving for six years.
Shane Webb, 24, of Dartford, Kent, who was driving the other car, was jailed for 12 years and banned for three years.
Webb's passengers, his cousin George Webb, 27, of Orpington, and William Dennard, 24, of Darenth, Kent, were jailed for six years.
A third passenger, David Cook, 24, of Orpington, was jailed for five-and-a-half years. They were all banned from driving for three years.
The Common Serjeant of London, Judge Brian Barker, said: "Both of you drivers have shown a complete disregard to the laws of the land and the rights of sensible road users.
"It was deliberate, selfish behaviour that led to catastrophic results."
Mark Heywood QC, prosecuting, said there was animosity between the occupants of the two cars - which Carlisle later told police was caused by a dispute over the price of a rottweiler puppy.
Mr Heywood said: "These five men played out the grievances between themselves on the public highway in two powerful motor vehicles."