Baby falls from third-floor flat in Tooting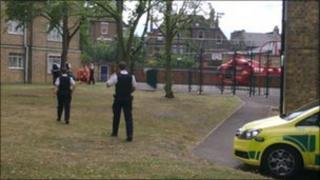 A baby girl suffered just minor injures despite falling from the window of a third-floor flat in south London.
Emergency services were called to Fayland Avenue, in Tooting, shortly after 1100 BST to reports that a one-year-old girl had fallen from the flat.
She suffered cuts and bruises and was taken to St George's Hospital in Tooting.
Paramedics in an air ambulance attended the scene. Police are treating the incident as non-suspicious.