'Alarming decline' among London's house sparrows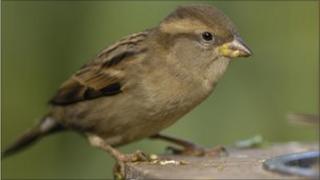 There has been an "alarming decline" in sparrows in London, the Royal Society for the Protection of Birds has said.
Its annual survey of the population of breeding birds has found a 68% drop in numbers compared with 15 years ago.
But it is unclear why this is the case, the society said, and a research project has been started.
Several species are on the increase, including robins, blue tits and magpies. The number of goldfinches has nearly trebled since 1995.
The number of house sparrows and song thrushes has declined more than in any other part of England, the report found.
This was "alarming", said the society's spokesman, Tim Webb.
"Their numbers are very low compared with historic levels and no-one knows why.
"Whatever is affecting them could be having an impact on our health and the wider environment," he added.