Tube drivers strike causes delays on Metropolitan Line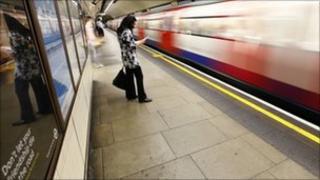 Commuters have been facing delays on the Metropolitan Line after 77 Tube train drivers went on strike.
Members of the Aslef union walked out for 24 hours at midnight on Tuesday over the "unfair dismissal" of a driver at Rickmansworth in north-west London.
London Underground said the driver was "re-graded" after a passenger injured her leg and was left on a platform after being trapped in a door.
It has asked the union to call off the "unnecessary strike".
Aslef said its action was intended to cause maximum internal disruption to the company but not necessarily to close the Rickmansworth station entirely.
'Safety deficiencies'
The union's acting general secretary Simon Weller said: "It was a regrettable incident, of course - but the sanction is totally unfair in this instance.
"The problem was caused by safety deficiencies, especially concerning mirrors, which we had reported regularly to management."
He added that the management "failed to react to our warnings".
Nigel Holness, London Underground's service director, said: "We are at a loss to know what has led to the strike other than a disciplinary case of one driver who has been temporarily re-graded following an incident in which his failure to follow safety procedures led to a customer being injured.
"We will not compromise on safety, and we would urge Aslef to call off this completely unnecessary strike action immediately."