Man jailed for single-bullet murders at London party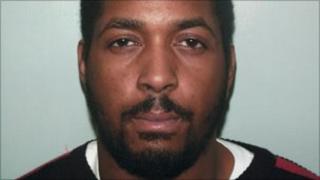 A gunman who killed a DJ and party goer with the same bullet at a New Year's Eve event in east London has been jailed for life.
Iain Davis had his first conviction for the murders quashed after a ruling gave defendants a legal right to know the identity of prosecution witnesses.
Davis, 33, fired at Ashley Kenton, 22, to stop him leaving the party in Hackney in 2002, the Old Bailey heard.
The bullet then travelled through a wall and hit Wayne Mowatt, 29.
Davis, of Brixton, south London, was first convicted in 2004 and given two life sentences.
He was ordered to serve the remainder of his minimum term, making him eligible for parole in 2023.
But in 2008 the Court of Appeal ordered a retrial after Davis successfully appealed, arguing that anonymous witnesses were not legal.
During the latest trial, Edward Brown QC, prosecuting, told the court Davis had fired at Mr Kenton, also known as DJ Creation, as organisers tried to end the party at about 0930 GMT.
The bullet went through his neck, through a plasterboard wall and into the second victim's head.
'Wrong place'
"There can have been no other intention in the mind of the defendant than that Ashley Kenton would die. It was little less than a callous execution," the prosecutor said.
"What had started as a celebration in that flat, ended in a blood bath."
Mr Brown said Mr Mowatt had probably been oblivious to events on the other side of the wall and that he had been "truly in the wrong place at the wrong time".
After sentencing Mr Justice Ouseley said he could not add to the original sentence but had Davis been convicted for the first time this year, the term would have been substantially greater.
"It is certain that there is no remorse and there never has been for what you did," he said.
Paying tribute to the witnesses who gave evidence the judge said Davis's "ruthless arrogance" over a trivial argument had destroyed the lives of many people.