London's north-south divide exposed by new poll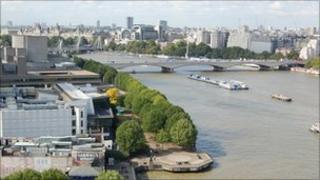 South Londoners are more likely to cross the river for culture than north Londoners, a survey reveals.
But the survey found that south Londoners may in fact have varied cultural tastes.
A survey of 300 people from across London was carried out by CultureLine, a partnership of 10 museums and galleries.
CultureLine spokeswoman Janet Vitmayer said it was "time north-south London prejudices" were "challenged".
About 80% of south Londoners cross the river at least once a month for cultural pursuits compared with just 41% of people from north London, the survey claims.
Visual arts
More than half of north Londoners rated eating out as one of their top three interests, followed by visual arts and popular music.
While these interests also ranked highly for south Londoners, they were also more likely to enjoy the capital's performing arts, heritage, classical music and markets.
The survey also found that both north and south Londoners are more likely to cross the river to visit cultural attractions since the East London Line reopened.
The railway line, which connects stations including Dalston and Shoreditch in the north with New Cross and West Croydon in the south, reopened in April.
The line stops near attractions such as the Geffrye Museum and Whitechapel Gallery.