Call to report plane laser attackers targeting Heathrow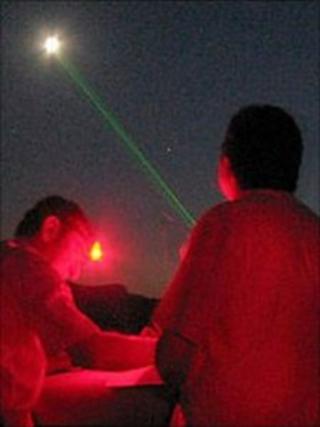 Residents in west London and Surrey are being urged by the UK's Civil Aviation Authority (CAA) to report sightings of green lasers flashed at aircraft.
The appeal comes after an Austrian Airlines flight was targeted by a laser pen aimed from Staines on 17 July soon after taking off from Heathrow Airport.
Two other flights for Heathrow were targeted from Staines the same night.
The CAA said 18 incidents were reported at Heathrow in 2009 and since January, 17 laser attacks have been reported.
Incidents of laser attacks reported by pilots and air traffic controllers across the UK have increased from 29 in 2007 to 737 attacks in 2009.
The lasers targeted commercial airliners, air ambulances and police helicopters.
Criminal offence
Captain Bob Jones, head of flight operations at the CAA, said: "Lasers are not toys. They pose a serious risk to all flight safety.
"I advise individuals who may think shining one of these things at an aircraft is a bit of fun, to think again. The chances of getting caught are increasing rapidly and once caught criminal charges are now inevitable."
Laser pens are usually used as pointers in presentations but powerful versions, which can shine a light at 6,000ft, can be bought on the internet for up to £30.
From 1 January a law was brought in which allowed offenders to be charged for shining the light which dazzles the pilot.
The laser, which distracts or could even temporarily blind a pilot, is a serious safety risk, especially during take-off and landing of aircrafts, the CAA said.