Public inquiry into 7/7 London attacks 'not ruled out'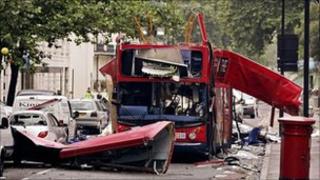 The government could still turn the 7 July inquests into a public inquiry, the Royal Courts of Justice has heard.
The inquests are set to examine alleged failings of police and MI5.
But Home Secretary Theresa May has the right to launch a public inquiry and halt the inquests, potentially adding cost and delay, the court was told.
Coroner Lady Justice Hallett said any ministers who made such a decision would have to read an assessment of its impact on bereaved families.
"I have already committed many thousands of pounds of public money and other resources on this task," she told Jonathan Hall, counsel for the home secretary and MI5.
"I have made promises to families, to survivors, and indeed to the wider public.
"I am sure that those who instruct you will understand that I am anxious not to waste those resources or break those promises."
'No challenge'
In May she ruled that the inquests, expected to begin on 11 October, should examine whether security officials could have prevented the 2005 London bombings.
The security service argues this is both unnecessary and impossible because doing so would require the disclosure of top secret intelligence files.
Speaking at Friday's hearing, Mr Hall said ministers had decided against launching a judicial review of the coroner's ruling.
"The decision is not to seek to challenge your decision on scope," he said.
"And so far as public inquiries are concerned, the secretary of state does not propose to initiate a public inquiry, although that cannot be ruled out as a possibility."
Victims' families welcomed the inquests saying they hoped they would finally find out what happened.
Bereaved relatives have long campaigned for the inquests to investigate whether the attacks could have been prevented after it was revealed two of the bombers featured in a surveillance operation more than a year before.
They also want to know if there were any failings in the emergency response that followed.