Crowds cheer TA medics in Kingston upon Thames parade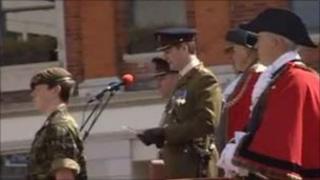 Territorial Army (TA) members have been cheered through the streets of Kingston upon Thames.
Medics and other service staff from 256 City of London Field Hospital were awarded Freedom of Entry by the south London local authority in 2009.
Local residents lined the streets as about 50 TA members took part in a parade through the town in recognition of that honour.
Medics from the volunteer force have a 126-year association with the borough.
Operational Service Medals were presented to reservist medics during the march.
'Warm reception'
Warrant Officer Alan Marriott, from Bermondsey, south-east London, said: "It's been a really good day. It has been a very warm reception from the public."
The 42-year-old, who recently served at Camp Bastion hospital in Afghanistan, said: "It can be difficult for the public to understand why people do it [volunteer].
"But someone has to do it, I want to support the soldiers on the ground."
Mr Marriott was presented with a special commendation at Saturday's ceremony for his work in Afghanistan.
In 1884, a group from the Medical Volunteer Staff Corps - set up to provide assistance in the Boer War - took up base in Kingston upon Thames.
In 1908 they became part of the newly formed TA.