Ex-Met boss: Treat officers like public in crime cases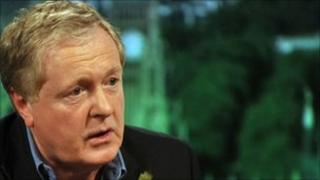 A former Metropolitan Police Commissioner has said police officers should be treated like other citizens in criminal investigations.
Lord Blair's comments came after was asked on BBC Radio 4 about the death of Ian Tomlinson, who was pushed over by a police officer at the G20 protests.
Mr Tomlinson, 47, died at the London demonstrations in April 2009.
Lord Blair, formerly Sir Ian Blair, said he "couldn't talk about that case in particular".
Last week it was announced that the officer who pushed Mr Tomlinson would not face charges.
G20 protests
"I'm afraid I've got a self-denying ordinance about talking about matters that happened after my time, I couldn't talk about that case in particular," he said.
"But I do feel very strongly that it is crucial that police officers are treated like other members of the public and face criminal inquiries when that is appropriate."
In May, Sir Ian, who left the Metropolitan Police in December 2008 citing differences with London Mayor Boris Johnson, was given a life peerage in the dissolution honours list.