Swiss glockenspiel clock returns to Leicester Square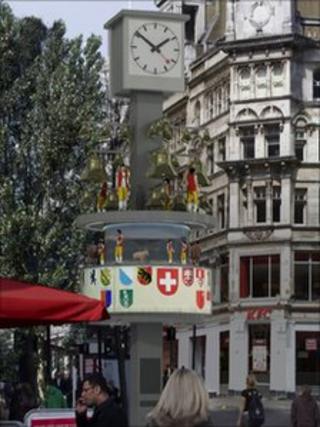 The famous Swiss glockenspiel clock in London's Leicester Square, which was demolished in 2008, is set to be rebuilt.
Westminster City Council has granted permission for the musical attraction to be reinstated.
The original clock was installed in Leicester Square's Swiss Centre in 1985 as a gift from Switzerland Tourism.
But the centre was demolished, along with the clock, in 2008, so a hotel could be built on the land.
The new 10m high steel structure, which was proposed by Switzerland Tourism, will be black, white and red.
The clock will feature a selection of moving figures representing traditional farmers which will form a rotating Alpine scene beneath 27 bells.
Councillor Michael Brahams said: "We are looking forward to this magnificent attraction being put back in its rightful place, in the heart of London in Leicester Square.
"We hope the 50 million people who visit Leicester Square every year will be able to enjoy the glockenspiel as a major tourist attraction."
The glockenspiel will add to Westminster Council's plans to improve Leicester Square in an £18m revamp.