Thousands register for London's bike hire scheme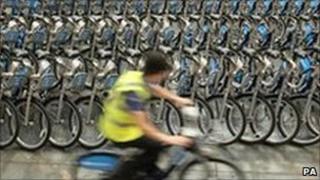 About 3,000 people have registered for London's new cycle hire scheme, Transport for London (TfL) has said.
The scheme, which begins on Friday, will make 6,000 bikes available from 400 locations across central London.
Registration opened on 23 July, but some people were unable to enter their credit card details on the website. TfL said the problem had been fixed.
Only those who register can use the bikes in the first month - they were originally to be available to all.
TfL said this was so it could "learn how members engage with the scheme, including patterns of bicycle usage".
Customers must activate an electronic key, which costs £3. Membership rates range from £1 for 24 hours to £45 for a year.
Users can take a bike for 30 minutes for free, but must pay rental charges if they use it for longer than half an hour.