Professional footballer Gavin Grant jailed for murder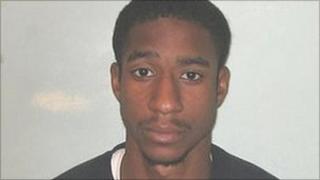 A professional footballer who shot dead a man on a north-west London housing estate has been jailed for life.
Former striker Gavin Grant was found guilty at the Old Bailey on Friday of murdering Leon Labastide, 21, on Harlesden's Stonebridge Park Estate.
His killing in 2004 was part of a series of "tit-for-tat" shootings, the Old Bailey heard.
Grant, 26, who played for Millwall, Wycombe Wanderers and Bradford City, must serve at least 25 years.
Gareth Downie, 25, and Damian Williams, 32, were also jailed for life and given 25-year minimum terms over the killing.
Victim 'executed'
Downie, from Markby Road, Birmingham, was found guilty of Mr Labastide's murder and Williams, from Tower Bridge Road in Southwark, was convicted of conspiring to murder him.
Sentencing the men the Recorder of London, Judge Peter Beaumont, said Mr Labastide "was executed by shooting".
In 2007 Grant, from Kenton, north London, was cleared of killing Jahmall Moore, 22, who was shot two years earlier.
But he was charged with Mr Labastide's murder when new witnesses came forward.
Speaking for Grant - who was playing for Bradford as recently as May - Nigel Rumfitt QC said: "Whatever he did in the past, he had turned his life around by the time it [the murder case] was resurrected."
During the trial jurors heard trouble flared after a burglary in which three women were terrorised and it was suspected that £20,000 in drug money was taken.
'Senseless killing'
A 16-year-old girl, who had been in the house, gave evidence under an assumed name.
Mr Labastide was rumoured to have been behind the burglary and Williams arranged for Grant and Downie to shoot him, the court was told.
In a series of shootings that followed Mr Moore was shot by Roberto Parchment in a case of mistaken identity.
Parchment, 24, who was originally convicted of Mr Moore's murder, was found guilty again following a retrial in December as a result of information provided by "supergrass" Darren Mathurin.
Speaking after Grant's conviction last week, Det Insp Steve Horsley said: "Gavin Grant thought he had got away with murder.
"He carried on his footballing career while, all along, he had blood on his hands."
In a statement Mr Labastide's mother, Diane Havill, said: "Leon was a keen footballer who shared his passion for the game with all who knew him. He loved life.
"His senseless killing by so-called friends who grew up with him has left it hard for me to understand the futility of snatching Leon's future whilst, in the same breath, destroying their own."
Grant also played for Gillingham, Stevenage, Tooting and Grays during his football career.