No charge on G20 man death 'profoundly unsatisfactory'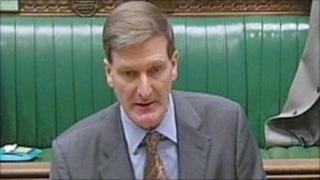 The Attorney General has said it was "profoundly unsatisfactory" that "a conflict of evidence" led to no charges over Ian Tomlinson's death.
Dominic Grieve said he understood the public's "dismay" over the decision not to charge the officer seen pushing Mr Tomlinson before his death last April.
But he added that the Crown Prosecution Service had acted with "propriety".
Mr Tomlinson died after being pushed to the ground by the police officer during the G20 protests in the City of London.
The 47-year-old newspaper vendor was not an activist but was walking home in April 2009 when he was shoved in the Royal Exchange. He walked away but collapsed 100 metres away in Cornhill and died.
Last week the Director of Public Prosecutions Keir Starmer said there was no realistic prospect of conviction because pathologists - who conducted three post-mortem examinations - could not agree on how he died.
Mr Tomlinson's son Paul King described the decision as "outrageous".
Responding to an emergency question in the Commons, Mr Grieve said the CPS and the IPCC had approached the case on the basis that there may be evidence to justify a charge of manslaughter, but conflicting evidence had jeopardised the case.
The CPS had also considered a charge of assault occasioning actual bodily harm.
Mr Grieve said: "There is something profoundly unsatisfactory about a conflict of evidence arising on facts in matters of this kind.
"Anyone, as I said, who saw the video of what happened must be seized with very serious concern about the matter.
"It's a view I entirely endorse and therefore for the same reason I am extremely unhappy, as I'm sure everybody in this house is, that we should be in the position that we are in today with such a complete lack of clarity in the matter.
"But there may well be lessons to be learnt."
He added: "I have seen nothing to make me doubt the seriousness and propriety of the decision-making process in this case."
'Muddy evidential waters'
Labour's Emily Thornberry, MP for Islington South and Finsbury, said: "We have all seen the film. The man [Mr Tomlinson] was clearly assaulted."
Shadow justice minister Maria Eagle questioned why the CPS had based its decision on "the divergence of medical opinion".
She said: "The public will find it difficult to understand how the opinion of a doctor facing 26 charges of misconduct before the General Medical Council can in effect muddy the evidential waters in this very serious case to such an extent that a prosecution cannot proceed."
Dr Freddy Patel, the first pathologist, is currently under investigation for alleged misconduct over four unrelated post-mortem examinations.
Mr Grieve stressed that if further evidence emerged following Mr Tomlinson's inquest the CPS could review its decision.