2020 vision unveiled for London's West End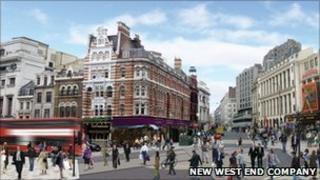 Plans have been unveiled to attract an extra 50 million visitors a year to London's West End by 2020.
The New West End Company unveiled its vision which includes an x-style diagonal crossing at the Tottenham Court Road junction with Oxford Street.
Other plans include cutting buses on Oxford Street by 40% between rush hours and the introduction of fast and slow shopper lanes.
"Entertainment zones" are also planned to host outdoor catwalk shows.
'Green' buses
The New West End Company, which represents 600 retailers, said the Crossrail development planned for 2017 would allow for "a radical rethink of traffic".
The firm aims to provide 50% more space for pedestrians by 2020 with "one dedicated surface transit system" down Oxford Street and Regent Street.
However, the company said it had not been decided what form the transit system would be.
"Green" shuttle buses, which could link Marble Arch with Tottenham Court Road, are also proposed.
London Mayor Boris Johnson said the West End was becoming "a brighter, cleaner and brilliant place to shop and relax".
New West End Company chairwoman Dame Judith Mayhew Jonas said: "It is imperative that we sustain our current momentum going forward."
An Oxford Street visitor pavilion, to be built in time for the 2012 Olympics, is also planned.
A "global media event" is planned for the week before the Olympics open, involving the closure of much of the West End to traffic.
The West End Company could not provide an overall figure of how much money would be needed to achieve its entire 2020 vision for the West End.