Greenpeace activists close down BP stations in London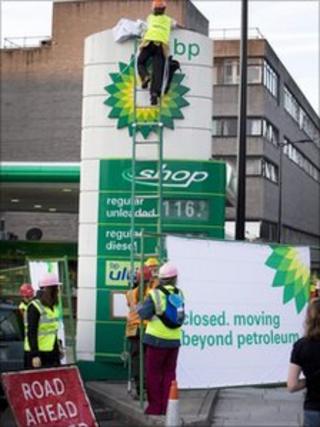 BP filling stations across London have been shut down by activists.
Environmental group Greenpeace said it had cut fuel supplies to all 50 BP stations in the city. The oil firm said 35 to 40 had been shut but many of them have now reopened.
The protesters stopped the fuel by removing safety switches on forecourts.
The action comes as BP reported an £11bn loss after the oil spill in the Gulf of Mexico and confirmed chief executive Tony Hayward is to step down.
Greenpeace said it wanted the company to adopt greener energy policies.
A BP spokeswoman said a majority of the targeted fuel stations have reopened and the rest will resume normal service by the evening. Greenpeace said the safety switches will be returned.
The action was described by BP as "an irresponsible and childish act which is interfering with safety systems".
Logo changed
Greenpeace said the protest was being held to urge Bob Dudley, who will take over from Mr Hayward from October, to move away from "his predecessor's obsession with high-risk, environmentally-reckless sources of oil".
At one station in Camden, north London, Greenpeace climbers replaced BP's logo with a new version showing the green "sunflower" disappearing into a sea of oil.
At others, protesters put up signs saying: "Closed. Moving beyond petroleum."
The organisation's executive director John Sauven said: "The moment has come for BP to move beyond oil."
A spokesman for the Metropolitan police said they were monitoring the situation but no crime had been reported and no arrests had been made so far.
The action follows the worst oil spill in US history, triggered by an explosion on the Deepwater Horizon drilling rig off Louisiana in the Gulf of Mexico on 20 April.
BP placed a containment cap on the well last week, stopping the flow for the first time since April.