London City workers' ping pong challenge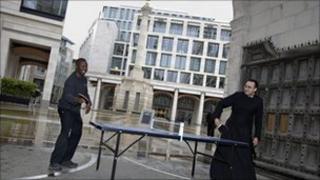 London's City workers are being encouraged to take part in an outdoor table tennis competition.
Six ping pong tables have been set up at three locations in the Square Mile as part of the Smash the City event.
The competitive summer league is designed to promote the game in the run-up to the 2012 Olympics.
City workers, residents and tourists can play on the tables in Paternoster Square, the Barbican Centre and Finsbury Avenue Square, Broadgate.
Bats and balls are supplied for the lunchtime and after-work league games. The event runs until 20 August.
Lord Mayor of London Nick Anstee will launch the contest at Paternoster Square later.
He said: "As a keen sports fan, I am passionate about increasing access to sporting activities across the Square Mile.
"This table tennis league offers City workers another fantastic opportunity to compete, network and exercise."
The event is part of Ping!, a wider initiative from Sing London in which 100 table tennis tables will be placed across London for the next four weeks.