Calls for judge to conduct London G20 inquest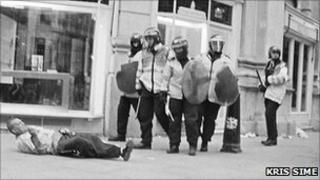 The government has been urged by MPs to appoint a judge to conduct the inquest into the death of Ian Tomlinson at the G20 protests in London last year.
A riot squad officer, caught on camera pushing him over, faces a disciplinary hearing, accused of gross misconduct.
Last week the director of public prosecutions said there would be no criminal proceedings over the death.
An inquest into a death would normally be presided over by a coroner, either on their own or sometimes with jury.
A group of MPs want a "prompt and effective" inquest due to "the public interest and disquiet" over the case.
The cross-party Commons motion calls on the Secretary of State for Justice Ken Clarke to appoint a judge as coroner to conduct a prompt and effective inquest into the far-ranging issues the case raises.
It also calls for public funds to be used to provide the Tomlinson family with legal representation.
'Cast a shadow'
Pc Simon Harwood, a member of Scotland Yard's territorial support group, was filmed striking the 47-year-old newspaper seller with his baton and pushing him to the ground in the City of London on 1 April 2009.
Metropolitan Police Commissioner Sir Paul Stephenson told the Home Affairs Committee of the decision to take action against Pc Harwood at a hearing on Tuesday.
He said the incident had "cast a shadow" on the professionalism of the overwhelming number of staff and officers involved in policing the G20 event.
In response to that, Mr Tomlinson's family said there was an "overwhelming argument" for the proceedings to be held in public.
The motion is backed by Liberal Democrat deputy leader Simon Hughes, Green Party leader Caroline Lucas and Labour MP Jeremy Corbyn, among others.