Officer 'killed in Afghanistan school roof explosion'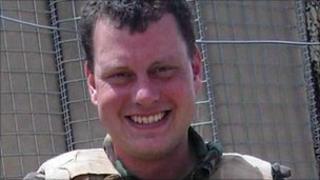 An Army officer was killed in an explosion on the roof of a school in Afghanistan, an inquest has heard.
Lt Paul Mervis, from London, was on routine patrol in June last year when the improvised explosive device (IED) detonated, the hearing was told.
The 27-year-old, of the 2nd Battalion, The Rifles, fell through the roof, sustaining fatal injuries.
The coroner recorded a narrative verdict that Lt Mervis died from wounds received while on active service.
Metal detectors
The court was told Lt Mervis had been in command of a ground-dominating area patrol when the blast happened on 12 June.
Cpl Paul Waldron, who was also on the patrol, told the inquest that the area of the roof where the explosion happened had been swept twice using metal detectors but that some IEDs did not have a high metal content.
He said the section had gone to the building because the "atmospherics" from local people had not been good.
He said the building had been the safest refuge, as it was made of concrete and was high.
"The main risk to us was the IED threat, it was very high. We were finding them regularly but then they got a bit more complex and harder to find," he said.
When the IED exploded Lt Mervis fell through the roof and suffered catastrophic injuries to his legs, losing both below the knee, as well as pelvic and arm injuries.
Despite receiving medical treatment he died soon after.
Lt Mervis grew up in London and went to King's College School in Wimbledon before studying philosophy at University College London.