Royal historical sites attract millions of visitors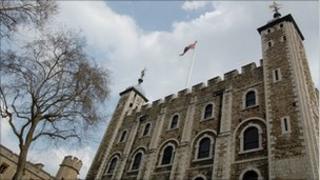 Overseas tourists spent more than £500m visiting attractions associated with the history of the Royal family last year, a report by VisitBritain found.
Of the 30 million tourists in 2009, 5.8 million visited a castle, another five million went to a historic house, while 6.4 million saw a religious monument.
The top tourist spots were the Tower of London, the National Maritime Museum and the Victoria and Albert Museum.
Windsor Castle and Buckingham Palace were also among the most visited sites.
'Monarchic heritage'
The Queen's Diamond Jubilee in 2012 could be a "bonanza" year judging by the popularity of the monarchy among tourists, the organisation said.
The Tower of London was most popular and welcomed about 2.4 million tourists last year, an increase of 11% on 2008.
About 2.37 million tourists visited the National Maritime Museum in Greenwich - part of which is housed in the Queen's House, a former royal residence.
And 2.27 million people went to the Victoria and Albert Museum.
About 987,000 people visited Windsor Castle - a rise of 6.3%, while 402,000 tourists saw Buckingham Palace in 2009, up 2% in a year.
Of 25,000 potential foreign visitors surveyed by VisitBritain, 60% said they would like to see places associated with the Royal Family and several others said they would send home a postcard of the Queen.
VisitBritain chief executive Sandie Dawe said: "This fascinating research shows Britain's monarchic heritage draws foreign tourists to just about every corner of the country from Scotland to Cornwall.
"The Queen celebrates her Diamond Jubilee in 2012, a feat last accomplished back in 1897 by Queen Victoria.
"This report suggests that year she is going to generate a bonanza for British tourism."