Anger over squirrel meat on sale in north London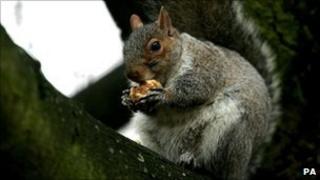 A north London grocery store is committing "wildlife massacre" by selling squirrel meat, an animal welfare group has claimed.
Vegetarians International Voice for Animals (Viva) accused a branch of Budgens of supporting a "barbaric and needless cull" of grey squirrels.
An independently-owned branch in Crouch End has been selling the meat for four months.
Shop owner Andrew Thornton said he sold the meat for "sustainability reasons".
Mr Thornton, who buys his squirrels from a supplier in north Essex, said he sold about a dozen squirrels a week at about £3 or £4 each.
'Wildlife massacre'
"Grey squirrels are abundant in nature and are culled so it is better that they are eaten than incinerated," he said.
"We are very strong on sustainability and squirrel meat takes much less to produce then say beef."
Viva founder Juliet Gellatley said: "Culls of thousands of grey squirrels by so-called conservation groups to boost populations of red squirrels are irrational, inhumane and destined to fail.
"It is very sad that Budgens are allowing profit to be made from wildlife massacre."
Actress and Viva patron Jenny Seagrove also spoke out against the sales, saying: "What gruesome product will be next to grace our food aisles? Blackbird, field mouse or mole?"
But Mr Thornton said: "It's quite tasty, a bit like rabbit and I really don't see what the difference is between other meat."
A spokeswoman for Musgrave, which operates Budgens, said: "We partner with individual entrepreneur retailers."
"The squirrel meat was sourced from an individual supplier, not Budgens directly."