Murder trial defendant who threw shoe at judge released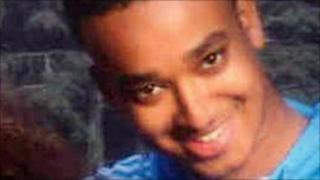 A defendant who threw a shoe at a judge during a murder trial at the Old Bailey has been released.
Onochie Madekwe, 34, was cleared of murder but got 33 months for violent disorder. He had served 512 days on remand and was released.
Madekwe, who had been accused of stabbing Kul Hawadleh in Wealdstone last year, hurled one of his trainers at Judge Gerald Gordon in December.
Michael Boyde and Andrew Spence were also sentenced for violent disorder.
They had also been cleared of murdering Mr Hawadleh at an earlier hearing and were also released, after serving half of their 30-month sentences on remand.
A fourth defendant, Abdul Khan, 19, has been jailed for life for Mr Hawadleh's stabbing.
The shoe thrown by Madekwe missed the judge but the defendant had to wear flip-flops for the rest of the trial.
At the time he said he had thrown the shoe 30 feet across Court 9 to protest his innocence.
No new charges
Following the sentencing, Madekwe, of no fixed abode, called out "thank you" to Judge Paul Worsley as he left the court.
Six prison officers in riot gear and a doctor stood by with four other prison officers during the hearing.
Madekwe, Boyde, 38, of Willesden, and Spence, 22, of Ealing, were cleared of murdering 19-year-old Mr Hawadleh, the son of a former prime minister of Somalia, who was stabbed to death in Wealdstone, north-west London, in February 2009.
Madekwe pleaded guilty to violent disorder involving a friend of Mr Hawadleh, which happened on the day of the murder, and was sentenced for this offence.
The prosecution said it would not bring any other charges in relation to the shoe throwing.
Boyde and Spence were found guilty of violent disorder in January.