Londoners try out Boris Johnson's cycle-hire scheme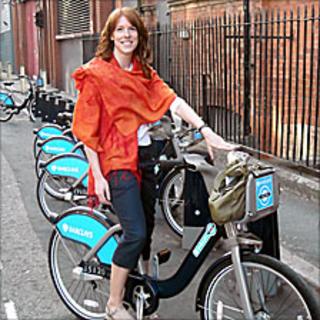 Attracting admiring looks as I cycle through London I soon realise it is the bike, not me, everyone is interested in.
I am using one of thousands of new bikes now available for hire across central London to make my journey to work - which takes me 30 minutes by foot.
The scheme is similar to one used in Paris and - determined to emulate the style of the women of that fashion-conscious city on my pioneering journey from Paddington to Great Portland Street - I have carefully selected my wardrobe in an attempt to be cycle-friendly yet stylish.
I opt for some cut-off trousers to avoid any chain-catching issues, wedge sandals, a pashmina and - thankfully as the sun is shining - sunglasses.
I arrive at the Winsland Street rack just after 0730 BST to find a couple of bikes already taken and wait for the next cyclist to arrive.
Andrew McNerlin, 33, commutes daily from Maidenhead into Paddington station.
Undeterred by admissions that Transport for London (TfL) was expecting "teething problems" he was enthusiastic about cycling to work in Grosvenor Street.
"I think it's a great idea, it means I can get a later train in the morning and it should take about 10-15 minutes to cycle instead of a 30 minute walk," he said.
"It's a big scheme and I think people are prepared to put up with teething problems."
Trapped finger
Robert Gale, 31, who arrived at Paddington from South Wales, signed up for the day after hearing about the scheme in the news.
He said: "It was just a coincidence. I was coming into London for the weekend so I decided to give it a go.
"I would normally take the Tube but it's so cheap. It only costs a couple of quid so if it doesn't work out I've not lost much.
"I haven't been on a bike for about 10 years so it's great to get back on a bike."
Helmets are not being provided but Mr Gale was confident his route to Euston would keep him out of the worst of the traffic.
"I checked out my route online so I can take the back roads and if you stay off the main roads in London it is quite quiet," he said.
But not all went to plan as, despite activating his card two days earlier, he failed to get the green light from any of the bikes lined up ready to go.
Luckily he had his laptop with him and was able to check the status of his account and TfL's mobile supervisor for the Westminster area, Camilla Ween, was on hand to help out.
Fortunately my key worked without a problem and, after trapping my finger while strapping in my modest-sized handbag, I left them to it and wished him a safe journey.
Portuguese interest
Among others, Paris's successful Velib bike hire scheme and a similar one in Montreal were looked at when developing the London model.
As a regular cyclist I am used to 21 gears so the 23kg bike's three mean I have to work harder than normal.
The distinctive silver bike feels very solid, as does the saddle but the somewhat uncomfortable riding position means these bikes would only suit me for a short journey.
Within minutes a professional-looking cyclist comes up alongside me asking about the bike so we stop and he takes a closer look.
He taps the forks and enquires "What's it made of?" then asks where I'm heading. He replies: "Me too but I think I'll get there quicker than you."
Despite my competitive streak I am forced to accept he is probably right and watch him ride off.
Pedestrians stop and watch as I ride past, a bus driver leans out the window to ask me about the bike and gives it the thumbs up and a fellow hire cyclist smiles as we pass each other.
I arrive at work to find a rack, with three empty spaces, right next to a queue of people outside the Portuguese Embassy watching my every move with interest. No pressure then.
I push my bike into the rack without a problem and, although my legs were slightly jelly-like, I made it into the office in one piece and a good 20 minutes quicker than walking.