Four teenagers detained for killing man in Thamesmead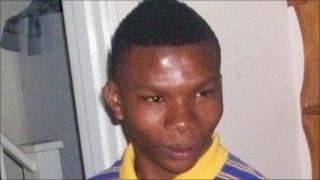 Four boys who killed an innocent man in 90 seconds when they went "hunting" on a rival south-east London estate have been given life sentences.
Moses Nteyoho, 22, of Abbey Wood, was attacked with a knife and a hammer on a Thamesmead estate last October.
Liban Ali, 16, Osman Amin, Ahmed Ghele and Burhan Yusuf, all 17, all from Woolwich, were found guilty of murder at the Old Bailey.
Amin, Ghele and Ali must serve 14 years and Yusuf was detained for 12.
An order banning the youths being identified was lifted by the court.
In a statement read in the court the 22-year-old's mother Eno Nteyoho said: "I am a broken woman who has lost a son.
"Moses was a peaceful man, never being in any trouble. No-one has the right to take a life. My pain will never end. There is a large gap now in our family."
Victim 'was cornered'
The youths took a taxi to Thamesmead "hunting" for a target to avenge Amin's humiliation after he was chased away from the estate some time ago, the court heard. They stopped three times and gave chase to a man before the attack.
Mr Nteyoho was out with a friend when the killers and another unidentified suspect approached them.
When the pair were chased, the victim's friend managed to escape but Mr Nteyoho was cornered and was beaten in the head with the hammer and also stabbed in the heart. The killers left the scene laughing.
Max Hill QC, prosecuting, said: "The passengers alighted, then returned to the taxi some 90 seconds later.
"During the intervening 90 seconds, Moses Nteyoho was approached by these males as he walked along Tavy Bridge with his friend, Simon Olweny-Otim.
"Moses was subjected to a brutal attack by more than one of the five passengers, who were armed with weapons including at least one knife and one hammer."
Sentencing, Judge Gerald Gordon said: "You were out hunting. This was an expedition to carry out this sort of attack.
"As a result of your conduct together a wholly innocent 22-year-old has lost his life.
"You, in contrast, left the scene laughing and unrepentant and there has still been no sign of remorse from any of you."
Det Insp Cliff Haines said Mr Nteyoho "was in the wrong place at the wrong time and died in the most tragic way".
"Throughout this process his family have behaved with such dignity," he added. "It is humbling to think that they have suffered such a terrible loss."