Protesters call for charges over Ian Tomlinson's death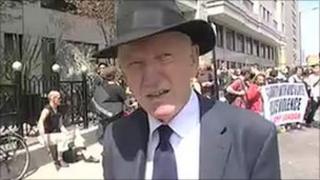 About 100 protesters have gathered at the Crown Prosecution Service's offices in central London to demonstrate about the lack of charges brought over the death of G20 protester Ian Tomlinson.
The newspaper seller was pushed over by a riot squad officer who faces a disciplinary hearing at Scotland Yard.
The director of public prosecutions said there would be no criminal charges due to conflicting medical evidence.
One activist, Prof Chris Knight, said he was "absolutely furious".
Pc Simon Harwood, who belongs to the Metropolitan Police's territorial support group, was filmed striking Mr Tomlinson with his baton and pushing him to the ground in the City of London in April 2009.
The officer faces allegations of gross misconduct but he was not charged by the Crown Prosecution Service.
Last week Keir Starmer, director of public prosecutions, said there was no realistic prospect of a conviction, despite a 15-month inquiry, because of irreconcilable differences between medical experts.
One pathologist found he was killed by a heart attack but two others believed he died from internal bleeding caused by blunt-force trauma.
Mr Starmer said this discrepancy jeopardised the chance of obtaining a conviction for manslaughter, while no assault charge could be brought as this had to happen within six months of any incident.
The decision angered Mr Tomlinson's family, who have instructed their legal team to review the decision ahead of an inquest into his death.
Prof Knight, who belongs to the protest group United Campaign Against Police Violence, said he and other activists were "shocked, outraged, angry, and we're making it absolutely clear that we're not having it".
"If those responsible aren't brought to justice, we're going to stand outside this building and make citizens' arrests until the people in this building... are brought to justice," he told BBC London 94.9.
The Crown Prosecution Service said it would not be making a statement about Friday's demonstration.
The Metropolitan Police has expressed "regret" to Mr Tomlinson's family about his death.