Derelict London lock restored for 2012 Olympic games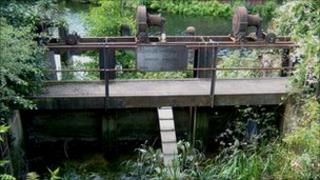 A derelict lock that has not been used for more than 40 years is being reopened to provide access to the London Olympic site.
Restoration work costing £400,000 has been carried out on the City Mill Lock, on the Waterworks River in east London.
The waterway will mainly be used by security boats during London 2012 and will link the site to the rest of London's canal network after the games.
A flotilla of boats will pass through the lock to mark its reopening.
The restoration work is part of a wider regeneration project that has seen a 5.5km (3.4mile) loop of waterways around the Olympic site dredged.
'Attract leisure boaters'
Richard Rutter, of British Waterways, said: "Whilst the Olympic Games are a massive focus for everyone living and working in London, here at British Waterways we believe that even more benefits will come after 2012, during the Legacy phase.
"At the moment boaters are restricted in how far they can go as there's no public access to the park.
"After the Games we anticipate the waterways will be opened up as quickly as practicable.
"These regenerated waterways will attract leisure boaters who help to create a colourful waterway scene."
Roger Squires, of St Pancras Cruising Club, said: "It's a real honour to be able to bring the flotilla through City Mill Lock.
"It's a great sign for the future of East London's waterways, and I'm sure that the investment to improve the waterways will mean that post-Games many more people will follow our lead and enjoy these restored industrial waterways."