Music centre closes in Greenwich costing 17 jobs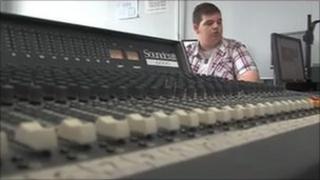 About 17 staff are to lose their jobs following a decision to shut a music centre in Greenwich.
Employees were told earlier this week that the Meridian Music Centre in Woolwich Road was to close.
Greenwich Community College, which runs the venue, said the building was no longer fit for purpose and funding cuts meant it could not be relocated.
Staff said it had helped change the lives of young people in the area and had a positive impact on the community.
'Prohibitively expensive'
Teacher Colin Crook added: "This isn't all about money, it's about changing the lives of our young people in the borough.
"As adults it's our responsibility to make sure that we have got the right stepping stones for them."
In a statement, Greenwich Community College said: "The college has announced the closure of the Meridian Music Centre in East Greenwich Library.
"The college has taken account of responses by staff and students at the Meridian Music Centre; however the decision to close the centre has gone ahead, mainly due to the accommodation factors.
"Once the LSC [Learning and Skills Council] Capital Build Support programme was withdrawn nationally, the cost of the move as part of the college's accommodation strategy became prohibitively expensive, even more so with the additional funding cuts."
The college said it would continue to provide non-qualification music courses at the Greenwich Park Centre.
A spokesman for Greenwich Council said: "The council is simply not in a position to act as a funder of last resort for other public services."