Glitch means London bike hire users travel for nothing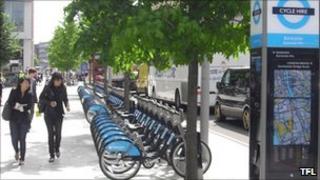 Cyclists who used London's bike hire scheme on its first day will not be billed following technical problems.
Transport for London (TfL) said it had waived Friday's charges after a small number of riders experienced problems docking the bikes.
One woman who tried to use a bicycle said the computer suggested she had been cycling for 11 hours even though she could not get the cycle to unlock.
TfL said more than 6,000 journeys had been carried out on Friday.
At least 12,000 people have signed up to the bike scheme, which allows them to use one of 5,000 bikes parked at 330 locations across central London.
Angela, from Kennington, who did not want to reveal her surname, said: "Unfortunately I couldn't pull the bike out. [But] the computer's reporting that I've been cycling for 11 hours, 11 minutes and 11 seconds."
On Saturday, users were sent e-mails thanking them for taking part and telling them that they would not be charged for the first day.
TfL admitted it was expecting a few "teething problems".
Cycle scheme project manager, Nicholas Aldworth, said: "We have had some people call the contact centre and say they aren't sure if they've docked their bike or their trip record doesn't show the time they thought they had the bike out.
"So we've said, 'yes we'll waive those charges today [Friday] and investigate some of those things'.
"We think we're probably talking in the tens, certainly not the hundreds [that have been affected]."
He added: "It's really important that when people want to dock these bikes, they give it a really good shove into the docking point, they look for the green light, wait for the click and that's all okay, it's locked."
Docking stations
Londoners who sign up to the scheme are sent keys which enable them to unlock bikes at the docking points across the city.
The keys cost £3 and users can choose from three access fees - £1 for 24 hours, £5 for seven days or £45 for annual use.
There is then also a usage charge on top - ranging from £1 for between 30 and 60 minutes' cycling, up to £50 for 24 hours - although all journeys of up to 30 minutes are free.
Docking stations are available in Camden, City of London, Hackney, Islington, Lambeth, Kensington and Chelsea, Southwark, Tower Hamlets, Westminster and several of the Royal Parks.
TfL is hoping to reach its target of 6,000 cycles and 400 docking stations later this year.