Salsa dancing world record bid in south London fails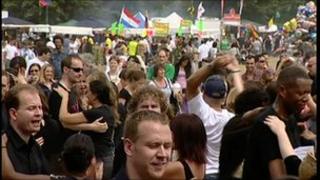 A bid to break the world record for the largest simultaneous salsa dance at a Latin American Festival in south London has failed.
The current record of 451 couples was set in Caracas, Venezuela, in October 2006.
The organisers of the bid at Carnaval Del Pueblo in Camberwell only managed to get 316 couples by 1300 BST.
The bid was part of the annual Latin American Festival in Burgess Park, dubbed the largest in Europe.
Leigh Adams, of London Salsa, said he thought the timing of the event was not quite correct.
He added: "We only got 316 couples together unfortunately but we will go for it again next year.
"If we had done it an hour later we would have broken the record as we had stacks of people coming later on.
"But we now know for next year."
Float procession
The organisers of Carnaval Del Pueblo estimate more than 100,000 people attended the festival throughout the day.
A procession of floats and dancers left Elephant Road, Elephant and Castle at noon and arrived in Burgess Park about three hours later.
The park also hosted Latin American musicians and artists as well as a children's zone and stalls.
Before the festival, London mayor Boris Johnson said: "London has a vibrant and diverse Latin community, which makes an important contribution to the life of the capital.
"Truly, it knows how to throw a party and there is an astonishing variety of events throughout the year.
"The Carnaval del Pueblo is an annual fixture amongst the highlights... get the Latin spirit and join what promises to be one of the liveliest, most colourful festivals of 2010."