Two people rescued from tower block fire in Wandsworth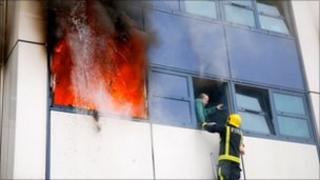 Firefighters have rescued two people from a fire at a tower block in south-west London.
London Fire Brigade was called to the fire on the fifth floor of Sudbury House in Wandsworth High Street at about 1110 BST.
A man suffering smoke inhalation was rescued from the fifth floor and another person from the third.
Crews removed a number of residents from the 24-storey building, which is above the Southside shopping centre.
London Fire Brigade said firefighters were currently damping down the blaze, which is thought to have started in one flat.
'Smelt smoke'
Steve Burns, whose brother and parents were caught up in the blaze, said: "They live on the ninth floor directly above the flat that was on fire.
"They were four storeys up but my brother had smelt the smoke.
"He lives with my parents and evacuated them all out with his wife and child."
Mr Burns added: "Then he made his way down to the fifth floor to try and kick the door in to get to the person whose flat was on fire but with a multi-lock door he couldn't gain access."
Fire crews used an aerial ladder to rescue the man.
Station manager Barry Newstead said: "Crews worked very hard to confine the fire to the flat.
"We had two rescues, one from the third floor and one from the fifth. The man on the fifth floor suffered smoke inhalation.
"We implemented our high-rise building procedures and that worked very well."
Wandsworth High Street is closed between Buckhold Road and East Hill. Garratt Lane is also shut.