Metropolitan Line air-conditioned Tube trains launched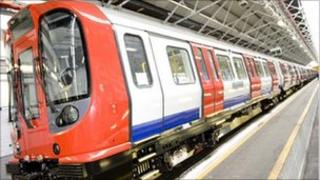 The first air-conditioned Tube train has gone into service on the London Underground.
The train, which will be used on the Metropolitan Line, is the first of a 191-strong fleet of new trains.
Transport for London (TfL) plans to roll the air-conditioned trains out across 40% of the network by 2015.
The train set off from north London's Wembley Park station at about 1030 BST on Monday. London Mayor Boris Johnson was due to attend the launch.
The introduction of the new trains to the Metropolitan Line is due to be completed by the end of 2011.
Air-conditioned trains will be introduced to the Circle Line, the Hammersmith & City Line, and finally the District Line, by 2015.
Budget cut
The total cost of the new trains will be £1.5bn, TfL said.
The budget to cool Tube carriages on the London Underground was slashed by £10m in July as part of TfL cutbacks.
However, TfL said the introduction of new trains would not be affected by this budget cut.
The mayor's office said cooling the network was still a priority but it had to ensure it was getting value for money as part of the network upgrade.
A heat map that monitored the London Underground on 28 July 2008 - one of the hottest days of the year - found the Central Line was the hottest, with temperatures of up to 32C (90F).
The Metropolitan Line recorded temperatures of up to 27C (81F).
The Jubilee Line was significantly cooler with most stations recording temperatures of 25C (77F).