Rail staff 'banned from London Olympics volunteering'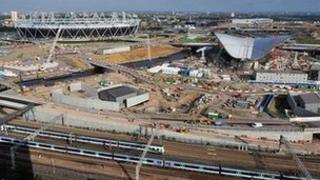 A union is threatening industrial action against a rail operator accusing it of effectively banning its staff from volunteering at the London Olympics in 2012.
The Transport Salaried Staffs Association said South West Trains (SWT) would not consider volunteering requests until January 2012.
The firm said it wanted to ensure it had resources in place for the Games.
But the union said all 70,000 vacancies would be taken up by this autumn.
It claimed it had obtained a memo to all heads of department at SWT from Steve Bunce, head of employee relations, urging them to "stall" on all leave requests for the next 18 months because the company might want to run extra trains into London Waterloo during the games.
The union said even staff who tried to book annual leave to volunteer would be blocked because holiday requests for 2012 would only be considered in 2012, by which time all volunteer vacancies would have been taken.
The union's general secretary, Gerry Doherty, said he was consulting lawyers to see if the ban could be lifted by way of a legal challenge.
He said: "Volunteers will not only be part of the biggest sporting event in their lifetime but they will also probably save themselves more than £1,000 in ticket costs by having free access to the events they are involved in."
A spokesperson for South West Trains said: "Many events are being held on our network, such as the sailing at Weymouth, and we may be required to run additional trains to help meet demand during the Olympics.
"It is plain common sense that we ensure we are in a position to have the right resources in place to make the operation run smoothly.
"Like many other organisations, once the detailed requirements for the Games are finalised, we will then be in a position to look at requests from individuals who wish to volunteer on top of the core role they will play in delivering transport for the Games."