Heat-affected lake in Abbey Wood kills 1,000 fish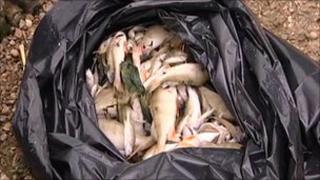 About 1,000 fish have died in a lake in south-east London due to the heat.
The Environment Agency said hot weather had caused a large amount of algae to bloom in Southmere Lake, Abbey Wood, reducing the oxygen in the water.
The species of fish affected include carp, small perch, silver fish and eels.
Aerators and diesel pumps obtained by the local angling club are being used to increase the amount of dissolved oxygen in the water.
Hundreds of other fish are said to be suffering in the lake.
Tom Cousins, from the Environment Agency, said: "The algae has got going due to the high nutrients and the warm weather, which is very typical of urban lakes.
"The dead algal cells are taking the oxygen out of the water so we are just trying to put it back in.
"We have got a whole range of pumps which are acting like a fountain in a garden pond."